If you decide to interact with your learners as actively as possible, look for opportunities to exploit third-party solutions in your LMS. Thus, educational systems allow you to connect various solutions to improve the learning experience and attract other experts to develop your e-course.
Video conferencing tools are an excellent choice for you. It does not require many funds, and the popularity of technology has only increased in recent years. Moreover, it allows using video conferencing widely in eLearning. We offer to consider the impact of technology on online courses and how to integrate third-party solutions into LMS.
How Videoconferencing Has Changed Education
Even 20 years ago, videoconferencing was available only to large companies and required a lot of time and money. In addition, not everyone could use the fast-speed Internet at that time. But now everything has changed: a person from any country or territory who has a smartphone/tablet/laptop with a camera can take part in a video conference. It saves you time and budget on conducting online training, which directly affects the success of the online course.
Plus, videoconferencing makes your students even more involved in the educational process. Using such a powerful instrument, you can convey the necessary knowledge to the audience as quickly as possible. Moreover, students have the opportunity to ask their questions directly and express their opinion on a particular phenomenon. In this regard, the video captivates much more than the audio recording.
And since many educational platforms support integration with video conferencing tools, you should invite experts with expertise in the e-course topic. It will make your LX more valuable and allow students to expand their competencies. Therefore, video conferencing is an excellent instrument for achieving clear goals.
How To Integrate Videoconferencing Into Learning Management System
In this case, it is worth remembering the six suitable formats for implementing video conferencing solutions. Let's consider them in more detail:
Ready-made video
First, you can give students access to pre-recorded lessons. Any LMS has all the necessary instruments to record and publish material. It allows students worldwide to get valuable knowledge anytime and increases learning autonomy.
Plus, educational platform solutions have tools to gather a collection of short and turnkey lessons. With their help, students will get an opportunity to quickly refresh their knowledge or get more answers to particular questions.
Live Group Classes
Your main goal is to create an excellent online course that will turn a solo journey into an exciting experience for learners worldwide. Therefore, a specific place in the learning program should be occupied for group lessons when students discuss the module's topic or do homework. Often, weekly calls are practiced to summarise the module results and work on the mistakes.
Group lessons are an excellent way to increase interaction with the audience and the interactivity of learning because students are responsible for each other. They should participate in the discussion to take advantage of the experience gained and provide feedback on the learning program.
You can implement an innovative approach to providing new knowledge to your audience. For example, students get an opportunity to ask each other important questions, vote for decisions, and perform specific actions within the live group class. In addition, visual contact (albeit through a camera) increases students' confidence in the teacher.
Q&A Session With Guest Speaker
Another good idea is to arrange a meeting with an expert on your module/course topic. Speaking from an authority figure makes your eLearning more valuable and helps you analyze your target audience thoroughly. Although you involve your partners' efforts in the lesson, learners can enjoy all the face-to-face communication benefits.
Plus, classes with an invited speaker can make him part of the team. Therefore, you will be able to strengthen relationships with students and learning partners.
Separate Webinars on Improving Specific Skills
Further, video conferencing tools allow you to run separate online training seminars. Each webinar focuses on particular topics and competencies, which helps students gradually improve their skills.
For example, a lot of classes are devoted to working with communication skills. So many processes in business depend on the expression of ideas, active listening, and reading body language. If you text in the educational platform's chat the whole time, you get nothing from these actions.
Therefore, you should implement custom video conferencing solutions. They consider all the nuances of communication with other people and help you demonstrate the acquired knowledge in practice. And do not forget to record the webinar and share it with your students, and they can learn new skills at any time.
Demonstration of New Tools and Services
Students do not need to know a cold theory about efficient solutions because it is better to learn how to apply them correctly. Therefore, it will not be extra to conduct live presentations of new products. Instead, it will allow students to know more about their benefits and what they can bring.
In addition, students can ask questions during the live stream to learn even more details about the product and how it helps solve problems. Another idea is to ask an expert to demonstrate a new product in action and give a personal opinion or share the secrets of using this tool.
Mutual Mentoring Programs
Mutual coaching is another fun way to use video conferencing tools on educational systems. In addition, you have a chance to run individual or group mentoring programs, depending on the e-course goals and students' preferences.
The purpose of mutual mentoring is straightforward: all participants meet at a specific time to discuss their progress, ask for help, and compare the results with their objectives. Further, you have a chance to host mentoring sessions for the LMS team. For example, teachers can meet in Zoom twice a month and discuss future critical tasks.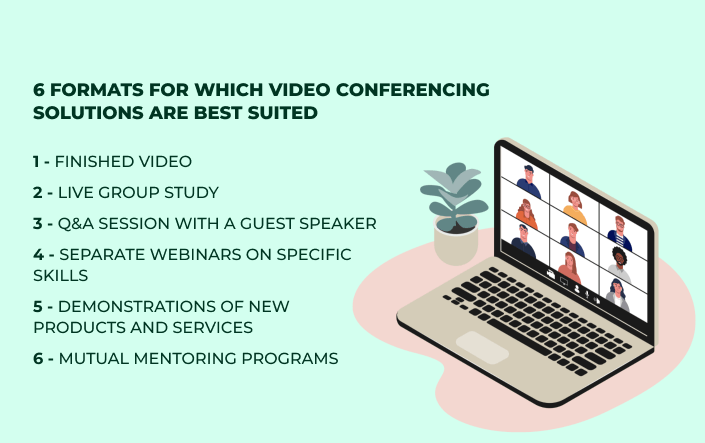 Tips for Finding the Proper Educational Platform Integration with Video Conferencing Tools
There are some key factors to know when selecting a third-party LMS integration solution. First of all, we are talking about support for mobile devices. The majority of your target audience spends whole days with a phone in their hand, and mobile educational solutions are paramount for them.
Plus, it should support video recording and editing. This set of tools usually includes cropping, sound editing, and image adjustment (contrast, color, etc.).
Also, your learning management system should be user-friendly so that students can quickly log in and join a group conversation via video conference. Finally, one of the core benefits of video conferencing is speed and convenience. Learners can highlight the main moments of a module and share their impressions of the live online course. Therefore, the LMS should make collaboration even better.
It also provides benefits for the creators of e-course. Thus, the integration of third-party tools helps you develop a strong EdTech business. Even if your squad consists of 5-6 people, it will be much better for you to ask for experts who can detect problems and fix them. Hence, integrating a video conferencing solution will enhance your workflow by creating an independent and dynamic work experience. Everyone will benefit from this, including developers, analysts, marketers, teachers, etc.
3 Most Popular Video Conferencing Platforms for LMS Integration
In addition to the built-in solutions, you can connect third-party solutions with more features. For example, consider the three most common options for implementation in the educational system.
Zoom
Integrating this software into your learning management system will boost the development of your e-course. Everyone can get valuable knowledge wherever with stable internet access. In this case, you should use a special Zoom connector, which helps you create a unique environment for collaboration between tutors and learners. As a result, your audience can watch lessons online without installing additional software.
Zoom is suitable for organizing many types of activities (lessons in virtual classrooms, meetings with experts, demonstrations of new products, etc.). And by combining this solution with your LMS, you will provide a comfortable environment for video conferencing. As a result, you will offer quality electronic education to your audience.
Google Meet
Google Meet is an excellent option for organizing group calls with your learners. You can use it to talk with your audience, demonstrate your screen, and work on documents or presentations. Talking about popularity, Google Meet is comparable with the first option.
To leverage this integration, your students must have a Google account. If they don't have it, it takes only a couple of minutes to create a new one. In addition, Google Meet provides tools for creating a virtual room without leaving the educational platform and sharing files on Google Drive.
Microsoft Teams
A well-known video conferencing software has a unique instrument for online and offline schools. With Teams for Education, you will add some new functionality to your learning management system. Hence, this solution complements the learning experience.
First, Microsoft Teams allows you to organize group video communications. You do not need an account to create a virtual room for a call. Just get a unique link and send it via the educational platform's chat, so students can instantly join the call and communicate with the teacher.
Conclusion
Let's sum it all up. Video conferencing will give your students the most required skills to succeed in their profession. And it does not matter whether they are learning something new or just refreshing their knowledge. However, students can only make meaningful progress when they can interact with you and find a common language.
Moreover, video conferencing does not require huge investments of time and money. On the contrary, as soon as you integrate such an innovative instrument into the learning management system, you will develop a first-class user experience. After all, direct communication is essential for any person. Therefore, pay special attention to adding video conferencing to your educational platform when developing an e-course program.
We hope that our article helped you implement innovative tools into your eLearning. Plus, we will talk more about third-party solution integration in the following articles, and you can help us look for more topics. Write your variants in the comments section!