KWIGA is the best live streaming platform. In just 30 minutes, you can launch your first live webinar.
Let your knowledge generate income. Give your first online master class now!
What Is a Webinar?
A webinar is a live or previously recorded online event that enables participants to attend a presentation, lecture, workshop, or discussion in a virtual setting. The words "web" and "seminar" are combined to form the word "webinar" that we are using now. Many purposes for webinars include instructional, informational, promotional, and training sessions. The overall duration of an online seminar is 30-60 minutes.
The most popular setting is when the presenter or host of the webinar can use a camera to display themselves to the audience while sharing their screen to show slides, movies, or other content. However, a single speaker, a group discussion, a product demo, or an open forum can also be put in a virtual space.
During a webinar, participants can use chat or Q&A capabilities to communicate with the presenter and other attendees, enabling real-time participation and feedback.
A wide range of platforms is available for hosting webinars, including a webinar hosting platform, social media websites, or video conferencing programs like Zoom or Google Meet. While some webinars are free to join, some platforms could ask for a fee or registration.
Due to their accessibility and ease, webinars have grown in popularity in recent years and caused hundreds of online schools to be developed worldwide. Participants can interact with the information and other attendees without traveling or being in the same physical area because they can attend from anywhere with an internet connection.
Businesses frequently utilize webinars for lead generation and marketing because they allow them to exhibit their goods and services to a large audience. Moreover, coaches and tutors regularly use webinars to provide online courses or workshops for professional development.
Webinars are a two-way mode of communication in which participants and presenters exchange information in real-time, making them highly effective. Therefore, businesses should learn what is a webinar and how to use it to reach their goals.
The main functionality of the webinar hosting platform for live broadcasts
Broadcasts of webinars and online master classes
All tools for launching webinars, online presentations, and master classes are available in your personal account. Creating a broadcast from a webcam and microphone has never been so easy.
Fast conference
In just a few minutes, you can create a conference and invite everyone to it.
Auto Webinars
All tools for launching webinars, online presentations, and master classes are available in your personal account. Creating a broadcast from a webcam and microphone has never been so easy.
Benefits of streaming on KWIGA
Simple interface
A clear and intuitive step-by-step with a checklist will help you quickly prepare for your webinar
Lag-free video demonstration
The platform works without "lags", so you can introduce the participants to the video materials for the lesson.
Without installing plugins and software
The system is based on modern web technologies. It does not require any additional configuration.
Support for popular browsers
No need to install KWIGA on PC. All interactions take place in the web interface.
Recording of broadcast and auto webinars
In addition to the broadcast itself, we also record it and store it on a secure server. Just in case.
Automatic device configuration
Forget unnecessary anxiety. The system will automatically check the operation of the devices and adjust the broadcast quality.
Minimum effort to master
Get a quick start on the platform for video streaming without boring instructions.
Simple analytics
There are no complicated menus with a ton of data. All important indicators are displayed in the course card.
Your own product
Our platform allows live streaming thanks to internal KWIGA technologies. You can also connect additional broadcast programs.
Kwiga webinar platform is the best solution for those who are looking for an easy-to-use and effective tool for organizing online events. It offers extensive customization options, an intuitive interface, a full range of integrations, and detailed analytics to measure results. Creating webinars on the Kwiga platform will increase the efficiency of your business and attract new customers.
Create and host your own webinar on the Kwiga platform
About video quality and technologies when creating an online broadcast
High-quality sound and picture directly affect the perception of information. Therefore, KWIGA guarantees the preservation of the high quality of educational content both during and after the broadcast.
After the broadcast, all recordings are converted and stored on the server in Full HD format. Video encoding uses advanced codecs and algorithms. They not only maintain high quality, but also open up a sea of ​​opportunities for starting an educational business.
The MP4 1080p standard allows students to read small text as well as view pictures with great detail with ease. In addition, all modern computers, smartphones, and tablets support Full HD quality.
We also offer the ability to start and record a broadcast via Youtube. You can share the closed link to the lesson with your students.
Representing your brand when launching an online broadcast
The broadcast cover is the "face" of your project. And we offer the possibility of its quick and flexible configuration. In just a few minutes, you can come up with a name for the broadcast, describe it, download the necessary presentations, and also set up additional settings if you wish.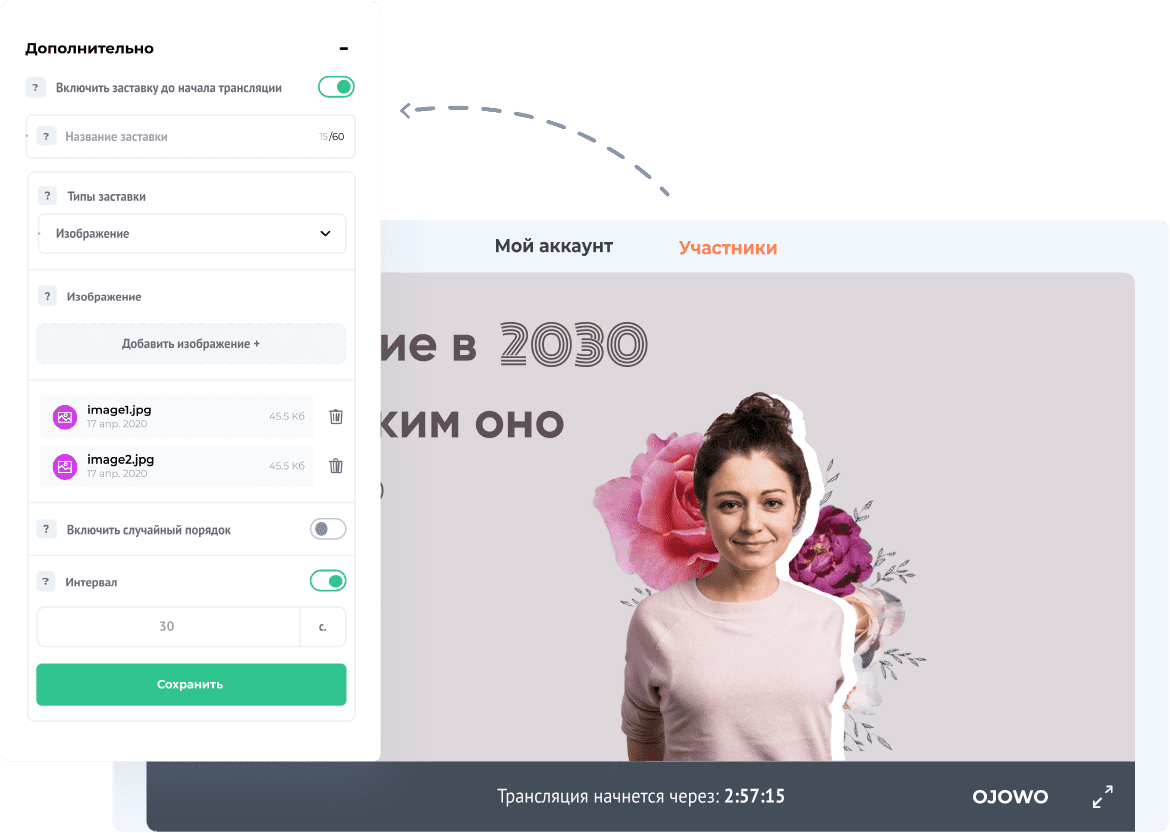 Nothing extras
In the settings menu, you will find everything that is most important for starting a webinar.
Unique product
Add a bold cover to grab viewers' attention.
Adaptable room
Change the settings as you see fit.
Ease of service management for live broadcasts
KWIGA offers everything you need to ensure that listeners learn as much as possible about you and your brand.
Access settings
Students will get acquainted with the amount of material that is provided for by their training plan. You can also make any post publicly available.
Automatic recording of webinar broadcast
KWIGA automatically records and saves Live Activities to your account. Share them with students by sending them a link or download the video to your computer.
Working with tags
The tagging system will help group the listeners as well as the individual lessons. And tag search makes the job much easier and faster. Even your granny can figure it out!
Interaction with listeners
Conduct tests and surveys to check how well students have mastered the material.
Interact with clients while streaming the master class through comments and live chats.
The ability to accept payments
After registering at the online school, each user can pay for the course in any convenient way. Connect popular payment systems to easily accept funds from anywhere in the world.
Multicurrency
A clear and intuitive step-by-step with a checklist will help you quickly prepare for your webinar.
Professional bookkeeping
We collect all data on payments in a separate table and remotely manage payment systems through integration.
Affiliate marketing tools
They will help to firmly announce that you are running an educational business.
Special offers
Subscriptions, packages, and much more are all designed to make learning profitable for you and your students.
Visa and MasterCard support
Your listeners will be able to pay for participation using a bank card.
Convenient online payment module
Nothing more, just everything you need.
Payment page design
Users will feel comfortable.
Fast payment processing
Funds are credited in a matter of moments.
Security of the service for selling online courses
Your business is your passion. And we perfectly understand that you trust us. The anti-fraud team will solve any security issues of your online courses.
You get access to flawless hosting to protect your and your customer's data.
KWIGA employees do not influence or modify the content in any way.
We are constantly monitoring the security situation for your peace of mind.
The site with live broadcasts is updated automatically. Therefore, you no longer need to wait for new features to appear.
A 2048-bit SSL certificate guarantees the security of customers' personal information when logging in and ordering.
Mobile solutions for online courses
Not all students are able to watch the live broadcast and participate in distance learning from a computer or laptop. In some cases, this requires the use of smartphones and tablets. Our web interface automatically adjusts to any screen of a modern device. However, a mobile solution from KWIGA is being developed for regular visitors to your online schools.
With the mobile app, you can:
Connect to live broadcasts in the online school.
Communicate with other participants via video or audio means.
Watch presentations.
Leave comments and messages in the chat.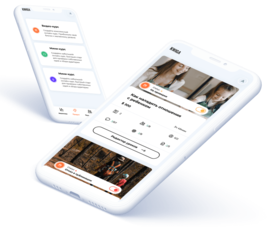 Integration with third party services
Use bundles with third-party services to transfer data both to and from KWIGA. Connect payment services, social media, and marketing automation and analytics platforms.