If you want to share valuable knowledge with students or build a business on it, you should think about creating an educational platform. As for now, people prefer to invest time and money in creating services from scratch rather than buying a finished product. At the same time, it is necessary to consider all the risks that the development of an E-learning solution carries.
Why E-learning Creators Choose a Custom Learning Platform
First, a custom learning management system (LMS) is chosen by people with enough time, money, and desire to build a profitable educational business. The success of such a platform depends on some vital factors:
the selected team (project developers, web platform administrators, managers, etc.);
the allocated budget for the development of a product that is compatible with any device and browser;
integrated solutions for processing payments and communicating with students;
orientation of the educational platform.
Therefore, a platform from scratch is a great opportunity and a significant risk. Let's consider the main dangers when creating a custom eLearning system.
10 Nuances in Developing a Learning Platform From Scratch
Online courses educate and engage students. It helps to build a brand that can generate income. Many organizations and businesses tend to choose online courses for employee training to boost the quality of the teams' work. With the right approach, you can create a platform with unlimited scalability. In any case, the developers will create a first-class custom platform so that you can focus on other tasks. However, even at the planning stage, you should consider all possible disadvantages to turning them into advantages. Learn more about ten main obstacles in developing an online learning system from scratch and how to avoid them.
Lack of Full Control Over the Process
You must understand that the head of the development team will play the first violin. It can be somewhat tough if you are used to being in complete control of the situation. Still, you are a valuable person. First of all, it is up to you to choose a development company that will listen to your suggestions and take them into account.
The first step is to arrange an introductory meeting. On it, you will meet the team and find out its position on creating a learning management system.
Also, you need to solve the following problems:
Schedule mid-term discussions or reporting;
Discuss the procedure for giving feedback during the project;
Provide unique design and tone-of-voice recommendations to the team.
It will help avoid problems with further communication and cut the number of edits.
Problems With Budget Planning
When creating a custom educational platform, you cannot predict actual development costs. As a result, your project budget will quickly increase. Therefore, it is crucial to get all the calculations in writing from the team.
The budget must include all possible costs. First, you should add funds to organize mid-term meetings to analyze the work of developers or purchase additional programs. In addition, it is vital to include reserves for unforeseen cases. Therefore, even a weekly downtime will not hit the budget and your expectations.
As a result, you will be able to create a realistic budget that contains current tasks and future expenses. In addition, you should understand how long it will take to develop an LMS from scratch and how much it will cost.
The Need to Create a System for Student Performance Evaluation
Online learning is the most interactive process. Therefore, it is necessary to check the students' knowledge to track their progress constantly. In addition, quality communication between students and teachers is a must. That is why you need to submit quizzes and tests into the system. Therefore, it seemed like a very logical decision. However, knowledge assessment in an eLearning system should be as automated as possible.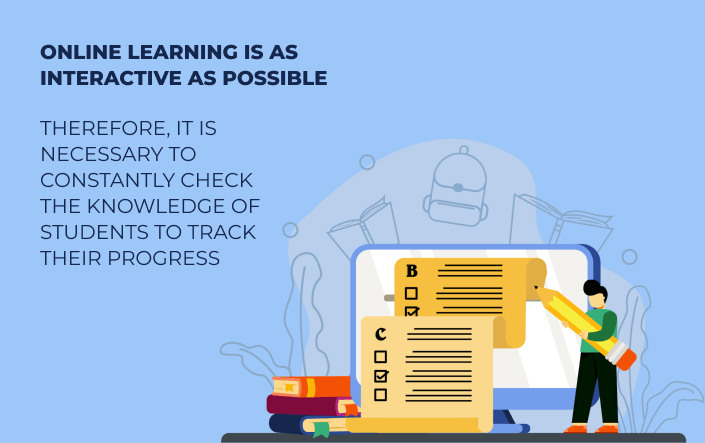 Your developers need to set a time limit for answering questions and fully allow for multiple test attempts. You also need to add an interactive module that creates random combinations of questions. It will simplify the work of the backend team and will allow later to more accurately track problems in the understanding of a particular topic by students.
The result should be a multidisciplinary evaluation system for your e-course that allows you to find the weak points and turn them into strong ones.
Content Inconsistency With the Corporate Tone
In some cases, another company will create an educational platform. It can create content that doesn't match the tone of voice of your other resources and supports the company's values. Therefore, it is much better to turn to an experienced team that understands your niche and develops an effective LMS. Plus, cooperation with such developers will avoid most problems (if you have provided them with all the recommendations and conditions).
No Scaling Options
Your educational platform must remain relevant and future-proof. It should have all the necessary functions for adapting curricula and integrating new tools. It is the scalability that determines the success of your LMS. To some extent, this is due to the high development costs. Therefore, they usually create a platform with a minimum of necessary functions for training small groups and then expand it as the number of students increases.
However, you should not think about a large platform right away. After all, if 500 students can access the site but 5000 cannot, this is already a bad sign. Eventually, you will start to lose both your eLearning audience and revenue. Therefore, it is better to build a gradual strategy for developing an educational system (from a client base of 100 people to a global audience of many thousands of learners). In this case, you do not have to sacrifice the existing student base and the created site architecture.
In addition, you must understand that having a scalable educational platform will be the driving force behind your business. Therefore, do your best to ensure that your "engine" develops consistently.
Possible Shift in Launch Dates
There is another adverse scenario: due to funding problems or constant failures during testing, you need to reschedule the LMS launch to other dates. It may significantly affect the audience already signed up for the first edition of your e-courses and is ready to get valuable knowledge.
However, you can avoid such a course of events. There are two possible ways:
Discuss the launch timeline with the development team and add extra time on top of contingencies (difficulties learning software, possible budget overruns, employee illness, etc.).
Set milestones where you can meet with the team to discuss progress on building the LMS. It will create a clear work schedule even before analyzing the situation as a whole.
Both approaches are highly effective when working for an outsourced or in-house team.
Overly Complex Website or Application
Your educational platform should not be too difficult for students. Therefore, do not overload it with various functions, even if they are helpful. It is much better to put this issue from a user's perspective who does not understand modern technologies.
The main task is to create an attractive and intuitive interface that does not take much time to learn. In addition, the service should be easy to navigate so that students can quickly find what they need. It is also worth mentioning the infrastructure: it must cope with current and future updates.
If students spend more time getting to know the LMS, this can cause much more problems. In this case, your audience will lose interest.
Communication Problems
They can arise in any situation, especially when creating a learning management system. In some cases, it depends on the working principles of the developers' team. Therefore, set clear rules for communication between teams:
Choose the frequency of meetings to discuss progress on work tasks (weekly or monthly).
Specify the working hours during which you can contact each other.
Select a contact person to contact.
Indicate the method of communication - email, work chat, video call, etc.
Propose a procedure for going through all iterations of the product.
The answers to all these questions will become your roadmap.
Conflicts Between Teams
When you work together with a separate development team, you may have some disagreements. For example, the team leader thinks about a different color scheme for your educational platform, or the developers want to show you the final version without prior approval.
However, you can easily avoid these problems. It is enough to indicate our expectations from cooperation and establish clear rules for working together. It will allow you to understand how to resolve personal conflicts between different teams and will allow you to achieve the expected results quickly.
Allocation of Resources to Create an Online Platform
At the same time, we are talking about money, time, or a mental resource. In this case, you need to be aware of two critical obstacles in their distribution:
You may overlook the resources that are available for repurposing. Thus, you risk inflating the budget for creating a custom LMS.
You simply lack fundamental skills - the ability to plan and allocate time. It causes difficulties in managing the development team or not being able to bring out your unique talents. The result is high costs and low profitability of the educational business.
As in the previous case, it is vital to organize all processes properly. First, you need to conduct a complete inventory of the business, clarify expectations with the development team, and set a list of tasks and resources available. It will allow you to understand what the developers themselves should provide and how long it will take to complete a specific task.
Conclusion
Let's sum it all up briefly. E-learning has opened up many opportunities over traditional education. It offers to create interactive and exciting courses that are becoming more popular every year.
If you start your way in online education, you are at risk of encountering one of the problems described above. However, our tips will help you avoid such mistakes. Moreover, you will be able to create a unique learning management system that will benefit your students. But if you have enough experience, our recommendations will help adjust your roadmap for effective development of the educational business. It will benefit both you and your audience.
We hope that our article was helpful for you. If you have any questions about creating an educational platform from scratch, leave them in the comments. We will answer them and review the most interesting ones in the following articles!