The most common mistakes when creating a webinar. How to prepare effectively for this event?
Nowadays, webinars are an essential and necessary part of effective learning and successful products sales and services on the Internet. In this article, we will describe the most common mistakes when creating and conducting a webinar.
Mistake №1 - unreasonbly long representation
"Brevity is the sister of talent."
Even if you really want to tell people about yourself, listing all the regalia and successes you have achieved.
Remember, a webinar is your main earning tool and your main activity, but your audience still has their own life. Most likely, your students don't have extra thirty minutes of free time to spend listening to a description of your person ( of course, you deserve attention and recognition, and, of course, you need to present yourself, but try to do it briefly and meaningfully).
You do not need to be limited to your name because the audience must understand why your opinion should be listened to learn the necessary and useful information from the webinar.
Mistake №2 - "expectation-reality"
For students to register and come to your webinar, they need to be interested. Your topic and lesson plan should be interesting. When coming to the webinar, students want to get answers to their questions or new useful information. And in case the speaker deviated from the topic or talked about nonsensical things or theories, a person has every right to leave the webinar room without remorse.
If it so happened that a large number of people registered for the webinar, and after 20-25 minutes there were a few listeners left - this is a reason to think, because maybe your information does not correspond to the stated in the webinar topic or you have bad organizational skills.
Mistake №3 - long performance. too long performance.
The average duration of your webinar should be one - a maximum of one and a half hours. Our brain is designed so that it can effectively absorb information for 90 minutes. Then comes fatigue, and information ceases to be assimilated.
Therefore, do your best to make all the information available in the allotted time. Of course, if you have no desire to speak for yourself after 90 minutes of the webinar.
Mistake №4 - no presentation
In the webinar, the presentation plays a significant role. It often happens that beginners do not want to create a presentation for various reasons. This is a huge mistake.
The presentation is your main element. It is your synopsis. You do not need any additional notes, notebooks, or cheat sheets—all the information is in front of your eyes.
Mistake №5 - overage of useful information
When you start working with webinars, everyone wants to please their listeners! Very often, beginners are ready to share all their secrets at the first webinar. And then, they wonder why sales are so low or non-existent. And this has its own logic.
Why should you pay a person if he is ready to tell you everything for free ?!
Make an effort to find a balance and make people want to buy your paid product. Involve, intrigue.
After all, the main purpose of the webinar is to share the necessary information and competently present your paid product so that students (listeners) want to buy it. The result will not take too long!
Mistake №6 - sharp sales
Do not try to start selling the product immediately after the introductory part of the webinar. Do it wisely, gently moving from general information to sales.
The webinar room empties very quickly if the audience sees that you are not interested in anything other than sales and that the main thing for you is to sell the product as soon as possible.
Mistake №7 - usage of ordinary tehnologies and unsatisfactory sound quality
Do you know such a situation when you sincerely want to hear the necessary information, and the speaker is about to tell you exactly what you need? And BANG! - the sound creaks, wheezes, is interrupted, the commotion begins. So, the webinar must be technically well organized. Otherwise, it may repel potential customers and show your not-quite-acceptable level of organization.
Mistake №8 - ignoring rehaersals
It is crucial when planning a webinar not to forget about rehearsals and sound testing. But rehearsal does not mean that you have to memorize the text. Everything should be natural.
Mistake №9 - wrong selection of the website (online platform)
This is one of the most important things. Of course, people register for the webinar, wanting to get the information they need. But the wrong choice of platform can spoil the overall impression of the webinar and your product.
Try your best to choose a platform with many features to create rooms easily, share files, broadcast presentations, conduct surveys, and communicate with the audience.
All these mistakes can be easily avoided using the KWIGA service!
This is where you will have access to a platform through which you can easily and quickly create and launch your webinar for educational purposes or sell your product.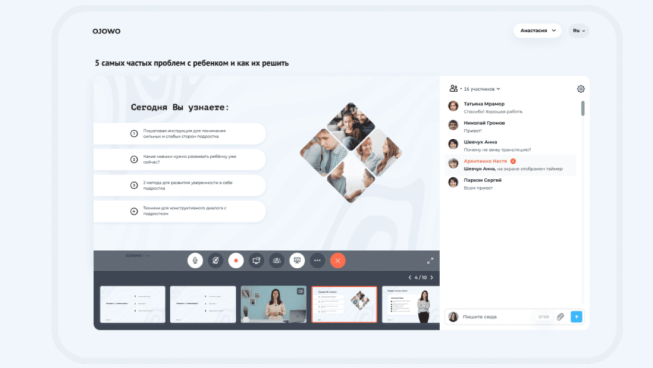 You do not need special technical skills - a simple interface, many functions, smart synchronization, individual templates, newsletters, simple functionality for beginners, and advanced for confident users - all of this and even more offers you the KWIGA service!
No more wasting precious time searching for the right platform!