Online learning has long ceased to be an innovation and has moved into the category of familiar things for people. However, not every business becomes successful. There will always be someone who uses advanced tools to teach other people. This is where a learning management system (LMS) comes into play. Let's look at why this tool is so essential.
What Is LMS?
LMS is an abbreviation for Learning Management System. This platform allows you to create, automate and control eLearning courses. Therefore, you can work with different educational materials, from recorded video lessons to full-fledged e-courses in real-time. Moreover, such platforms are available even on smartphones.
This solution is powerful enough to run courses of any length, complexity, and format. Further, the scalability and flexibility of the LMS make it a one-stop solution for the education business.
In this regard, we can compare LMS to a jinn who fulfills all the wishes of the lamp's owner at the snap of a finger. However, we are talking about the most convenient interface and services, so no more jinns here.
What Is the Main Role of LMS in the eLearning Development?
The primary purpose of a learning management system is to manage eLearning courses. However, the specific purpose depends on your business focus, the size of the company, and the strategy you choose. Your requirements for online courses also affect how you use them.
For example, if you want to provide critical practical skills to your students, a learning management system will fit perfectly. In addition, the LMS uses modern web technologies, which makes it possible to increase the effectiveness of online learning. Finally, students will receive everything they need to gain valuable knowledge and master skills.
Why do educational platforms play such a massive role? The reason is simple: the rapid development of global education. It stepped far ahead and turned into a great way to earn money. In this case, eLearning founders must follow two requirements: student satisfaction and motivated learning outcomes.
Furthermore, the learning management system is one of the most advanced technologies. At one time, it made a revolution in education, and now it allows millions of people around the world to access knowledge. Therefore, online course creators can use LMS to collect data and implement advanced techniques (e.g., mobile learning and game mechanics). This approach allows you to increase the students' engagement and make their learning process more productive and continuous.
That is why learning management platforms are so in demand among online school owners and eLearning developers. Such software increases the effectiveness and completion of training programs and makes managing online education even better. Now let's take a look at how an LMS works.
Features of the Learning Management System
It is a massive repository of data about current courses and students. Each user who has a login and password for access can analyze the training materials. Here are some features of a high-quality LMS.
Adaptive Design
Each user can enter the educational platform from any device (smartphone, tablet, PC, laptop, and even Smart TV.) In this case, LMS should display the version of the learning management system that is adapted for the selected device. In addition, the LMS must also support the ability to download content for offline access. This freedom of action attracts more and more students.
Intuitive Interface
An effective LMS should make it easy for students to navigate the system. The user interface is developed following the goals of the educational platform and the ability to adapt to personal students' goals. Pages that are too overloaded with elements may confuse users and reduce the effectiveness of the LMS.
Advanced Analytics Tools
Developers pay a lot of attention to this issue. For example, online course creators can view data visualizations and download reports on key metrics such as user-to-student conversion, lifetime value (LTV), return on investment (ROI), course completion, etc.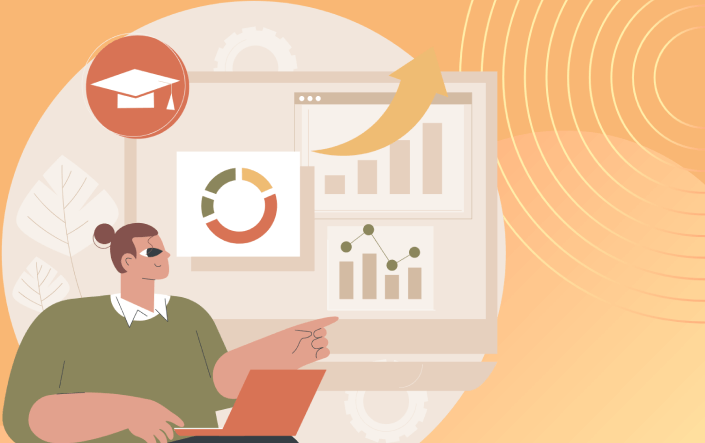 In addition, analytics tools are also helpful for teachers and administrators. They can analyze their online learning methods and determine their effectiveness. Data is available for groups of students as well as individuals.
Convenient Management of Educational Materials
The interface should be accessible not only to students but also to teachers. A high-quality LMS allows you to access materials quickly. Thus, you can create new and edit existing training modules. In addition, convenient management of the courses catalog helps you offer more targeted training to other students.
High-quality Interaction of Courses With the Learning Management Platform
All learning materials should follow global technical standards (e.g., SCORM and xAPI). In addition, they define the structure of the e-lesson and the principles of its interaction with the LMS.
Advanced Support
Quality online learning management system providers offer 24/7 customer support. So, users can help each other with vital questions on a particular forum or contact managers personally in any convenient way (phone, email, online chat). As a result, a layered approach to problem-solving increases the satisfaction of course creators.
Full Compliance With Global Requirements
A high-quality LMS supports all technical standards and has all the necessary certificates of conformity. Therefore, online course creators can use a learning management system to assess student knowledge and fill gaps. Moreover, compliance with technical requirements allows for better auditing.
Ability To Integrate the Platform With Social Networks
More and more LMSs are beginning to introduce tools for the so-called "social learning." It is the joint knowledge acquisition using social networks. Thus, students will be able to study together and share their experiences in personal profiles.
Game Mechanics
Learning management systems allow you to implement or use ready-made gamification tools. This approach helps everyone create e-learning courses with an even greater level of engagement. As a result, students receive additional motivation to learn to complete their e-courses (for example, with virtual awards and rating points).
Complete Automation of Routine Tasks
LMS eliminates the need to do repetitive tasks manually. The system allows administrators and tutors to automatically register new users, deactivate profiles, segment students, etc.
Convenient Localization Tools
Educational platforms also contain functions for connecting pages in other languages. It allows you to expand the audience of eLearning and break language barriers. Moreover, some LMS automatically launch a website version according to the user's geolocation.
AI Assistance
Artificial intelligence makes it possible to provide a unique learning experience for each student. LMS will independently select the learning format for the needs of students and offer new topics based on previously completed courses.
How You Can Improve Your Online Course With an LMS
Online learning attracts more and more people every year. Its main advantage is getting knowledge at your own pace, without regard to others. And a quality LMS can increase student productivity. All you need to do is log into the educational platform and follow the course plan. Despite the complete automation of training, teachers can add their own best practices. Here's how an LMS allows you to extend your eLearning experience:
Make Course Management More Convenient
There is nothing complicated about online learning. Even a complete newbie will cope with the educational platform. A convenient course builder and a step-by-step checklist allow you to understand all the nuances quickly. Therefore, eLearning creators can easily launch the first module in just 30 minutes.
The learning management system is available 24 hours a day in every country. Further, an individual approach to students allows you to study according to a personal plan. LMS also guarantees 24/7 support if there are any problems on the platform. All this annually attracts tens of thousands of students around the world.
Especially valuable LMS is for corporate training. Companies do not need to spend a massive amount of money organizing and conducting training sessions. Instead, it is much better to record an online course once and use it constantly. This approach increases the effectiveness of training new and existing employees.
Add Integrations With Third-party Services
When students use different learning tools, their productivity grows drastically. Therefore, educational platforms support integration with third-party solutions to increase efficiency. Moreover, it helps to know about eLearning trends, making it more visual and exciting. As a result, adding third-party services improves the interaction with the course and enhances the learning results.
Track Student Progress
Traditional learning platforms do not have enough instruments to track the students' progress. LMS, on the contrary, offers convenient analytics tools and automatic data collection. Therefore, the learning management system helps monitor and record information about each student regularly. Also, this data can be uploaded to a separate report for further analysis of the effectiveness of the online course. This approach allows managers to find weaknesses in the program and quickly eliminate them.
The main advantage of the eLearning platform is data visualization in the form of graphs, charts, etc. It makes working with data more convenient and faster.
Place All Resources on One Platform
What influences the eLearning completion rate the most? First of all, the availability of educational materials at any time. If students can log into the learning platform and watch the lesson, they can always do so. Therefore LMS keeps all modules and courses in one place. At the same time, students will always know about all changes that teachers have made. It will make training programs more effective and save time and money. Therefore, many offline schools are moving online and enjoying all the benefits of LMS.
Boost The Learning Productivity
We can only talk about the final achievement of learning goals when students begin to apply their knowledge in practice and get what they want. Learning management systems do it all. Each course provides up-to-date knowledge and allows you to master the most in-demand skills. If students improve their competence in various issues, they will be able to change their lives. Further, they will make the lives of other people also better.
Conclusion
Let's sum it up. LMS is designed to facilitate the necessary knowledge and skills acquisition. It suggests creating eLearning courses, connecting third-party solutions, and introducing new learning techniques. Therefore, students can quickly fill in gaps in knowledge or learn a new exciting profession.
We hope this article was helpful. If you have any questions about LMS, write them in the comments below. We will answer all of them, and the most interesting ones will be the topics of our following articles!