How to schedule auto webinar, add video, connect the ad unit, add a splash screen, how to run a paid and free auto webinar.
---
In this article:
---
Autowebinar is a scheduled event that will start automatically at the specified time without your participation or without the participation of the speaker. Autowebinars useful when the same type of activity is repeated several times or must be be strictly on schedule. For example: lectures where live is not required communication, a repetitive theoretical block of a training session or training, an event or lesson that should take place according to the schedule, interactive webinar recording for employees who missed the live broadcast
How to schedule an autowebinar
In the upper left corner on the Kwiga platform, open the products tab, autowebinar, and click create.
Add a title and description of the broadcast - this information will be displayed on the webinar page.
Schedule the date and time.
Important - by default, the time zone that You specified during registration. The date and time are set strictly according to the specified time zone. If you are planning to host a webinar for attendees from another time zone, (for example, in another country) - pay attention to this item.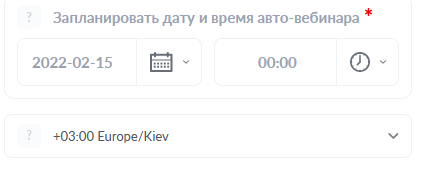 Change time zone using the drop-down menu.
Free autowebinar
To conduct a free autowebinar - in the section "Access and registration"set the item "Only registration required" In this case, all users who register will be able to visit it. to the webinar.
Paid autowebinar
To conduct a paid webinar - in the section "Accesses and registration" set the item "Paid participation" and specify your suggestion.
Important - you need to create an offer on Kwiga like this do read the article
Repeat
You can set the frequency of repetition of the autowebinar, for example, according to the given dates, or days of the week.
Video settings
Video source can be:
Youtube - copy the link of the video on your Youtube channel. It can be a public video or "unlisted" video.
Important - if you plan to restrict access to content, we recommend "unlisted" video. In this case Youtube generates a unique link that will be known only to you. And you can decide for yourself who to send the link to and who not. you can sell autowebinar and be sure that no one will share the link with a friend, etc. So how participants will watch videos not on Youtube, but on KWIGA, and access to they won't have a link.
Vimeo - copy the video link from Vimeo.
User device or KWIGA library - click "+", select the option "From Computer" or from from KWIGA media libraries. You can upload files up to 1 Gb in .mov, .mp4, .3gp, .divx, .flv, .mpeg, .mpg, .wmv, .mkv
Autowebinar intro
Autowebinar intro is the title slide that will be visible in the webinar room before the start of your webinar. Supported formats .jpg, .jpeg, .png. Side resolution 16/9. Size - no more than 10mb.
Ad block
If necessary, you can add an ad block.
Autowebinar is ready, it remains to click "Next" and "Schedule". A link to the presentation will be generated. a course page that you can use to engage your audience. For in order to copy the link - click on the copy icon.